3DS Homebrew Game Mr Robot And His Robot Factory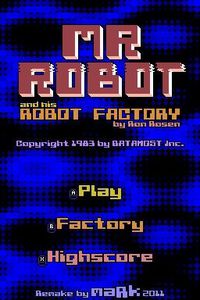 Mr Robot and his robot factory is a remake of the very popular c64 game created by Ron Rosen back in the 1980s.
For those of you that haven't ever played this game before, either because the 8-bit era was before your time, or you didn't have a c64 or Atari computer, here's a quick synopsis. It's a single player platform style game that came out for multiple systems. C64 being the most popular, but it was also available for the Atari 8-bit as well as the Apple II computers.
The game centres around Mr. Robot, a humanoid robot that must works his way through the factory. However, the factory is filled with conveyor belts, ladders, suspended platforms, and various other obstacles that Mr. Robot has to get through in order to come out on the other side. You have 4 lives, and once they're gone, the game is over.
You'll have to collect rings or small musical notes, throw a fireball for a bucket load of points, etc.. You start out every level with a base 100 units of energy which can get depleted pretty quickly, considering it goes down by a rate of about 1 unit per second. This is what made the game so much fun. While the levels may seem easy, they become infinitely harder once you realize you have a time limit.
The game controls are pretty simple, and you can see them below:
Controls:
On the menu:
A: Play.
B: Editor.
X: Ratings.
In the editor:
Stylus: Full control of the publisher.
A: Delete.
In the game:
Dpad: Move.
A: Jump.
Start: Pause.
Here's the actual gameplay of Mr Robot And His Robot Factory for the DS. It works the same on the Nintendo 3DS as well.
Share this post