R4 3DS - What Is It, And Why You Need One
I've received a good number of messages asking just how to play the homebrew games I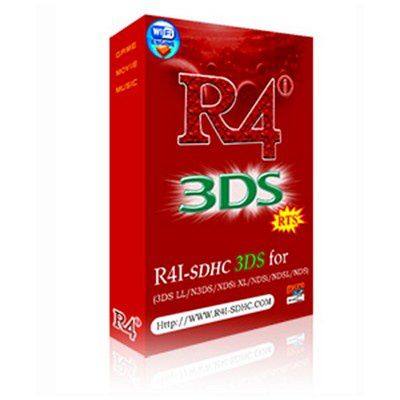 am reviewing. I didn't realize that I hadn't really covered that properly in any of my posts. Better late than never though! I won't go in to great length in this post, but I will try to give you a general idea of what the r4 3ds card is, where to buy it and know you're getting the genuine cards.
I know there are lots of different stores from China where you can buy an R4 3DS card, and it's great that these places are cheap.. sometimes too good to be true cheap. But the problem is you're getting product that is not official, and more often than not, is a clone of a card or a cheap knock off instead of the real deal. Now I don't know about you, but for me, spending an extra $7 or $8 is more than worth it to know that I am getting a real product that actually works, and that will be supported with firmware updates down the road.
This is something that many of these china stores simply can't offer. While they're busy selling copy r4 3ds cards at about $10.00 - $14.00 each, the real cards actually only cost between $18 and $22 depending on the features that you want, which is what I will stick with. I have several friends that went the way of the clone, and ended up with paper weights now that new updates have come out for the DSi and the 3DS.
I've always done what I could to seek out the official manufacturers or the actual official stores when it comes to these types of products. It's the only sure fire way to know that what I am getting is the real deal. In this case, I bought - and sent friends / family to buy - from the official r4 3ds store at www.r43ds.org I am not suggesting that you, my readers, have to buy from there. Just letting you know that it's the actual official store for 4 different r4 3ds cards, and that I myself have used them for my R4 3DS cards. I get most of my games from ndshb.com
Okay.. So what is this R4 3DS card. You can think of it as a memory card adapter. It looks just like a regular DS / 3DS game cartridge, except it has a micro sd memory card slot on the top of the card, where you can plug in memory cards that range in storage from 2 Gigabyte cards up to 32 Gigabyte cards. The bigger the memory on the card, the more files you can fit on it - and the more apps and games you'll be able to load up from your Nintendo 3DS.
It's also a multi-media card. I say that because it doesn't just let you play games and applications, it also lets you watch movies on your DS, DSi or 3DS system. If you have MP3's, you can use the r4 to listen to your music on your game system too. It has way to many features to list here to be honest, so I'll put them in point form below:
The R4 3DS lets You:
Play games and applications that you download from the internet on your Nintendo DS and Nintendo 3DS
watch movies on your consoles
listen to all of your mp3 files and turns your 3ds in to a portable mp3 player
play homebrew games / apps
use emulators for old console systems and even computer systems
and a bunch of other cool features :)
All of the games and apps I review and will review, I load and play with my R4 3DS. It's the only way to play homebrew games on the 3DS and 3DS XL systems, as well as to use emulators on the Nintendo 3DS. I will probaly not always say exactly to use R4 3DS, because I assume people know about it. If any of you feel like I need to explain things a bit more, please don't hesitate to drop a comment, and I will make sure I do explain in more detail.
Share this post
Comment on this post
Obat kutil kelamin herbal tradisional ampuh 09/15/2014 18:32
Obat Kutil Kelamin Herbal Ampuh 09/15/2014 12:24
Obt sipilis 09/13/2014 11:11
Obat kutil kelamin 09/12/2014 18:20